Post by BADGER on Oct 9, 2008 1:52:55 GMT
Details of the track changes to be made to Donington for the 2010 British F1 GP, the circuit does not change between Redgate and McLeans, so the iconic Craner Curves remains intact. However, the straight between McLeans and Coppice is slightly extended to bring the track around in front of the new and much-needed paddock area and start/finish straight, now close to where the Dunlop Bridge currently sits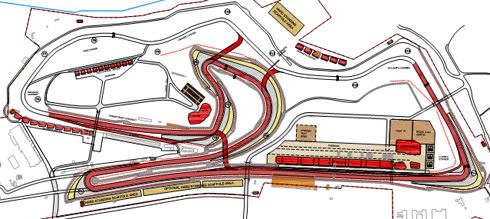 The Esses are gone, but sadly the daft Melbourne Hairpin remains and now leads down to a re-modelled Melbourne Loop (T1 on the map). After the hairpin follows and entirely new section of infield-loop, a long left-hander (T2) followed by another left-hand hairpin (T3), before the track then curves right and catches another sharp right-hander (T4) which effectively replaced Goddards. The track then feeds back to the Redgate/Craner complex.
There are three possible circuit variations:
A "short circuit" option, where the hairpin and new infield loop is missed out, which would be close to the original track layout before the Melbourne Loop was added to extend the track to a length suitable for Grands Prix.
A "west loop" consisting of Redgate, Craner and a curve back up the hill to the revised Goddards.
An "east loop" consisting of Starkeys to McLeans, the new start/finish straight and the Melbourne Loop.
The plans are no real surprise - an infield loop was inevitable given the restricted area available to the planners. It is however a pity that the hairpin has been retained - never my favourite part of the track. It is not at this point clear if the Redgate -> McLeans section will be widened for F1, but the width proposition for the new sections of track is 15m wide, implying the track that survives may be widened, which will change it's nature. The new infield section may provide overtaking opportunities for bikes (not very likely for wide F1 cars) on the run in to the sharp left (marked T3 on the map) but it is not clear if anyone but TV cameras will see it as the spectator provision is not shown.
New paddock and support buildings are on the plan, which are much needed. However, spectator facilities appear to continue to be limited to temporary scaffold structures (marked as "hard standing/scaffold areas" on the plan).
For a more detailed map
Click here