Post by BADGER on Nov 10, 2008 12:45:15 GMT
At the season-ending Valencian Grand Prix, Fiat Yamaha Team director and YMC MotoGP group leader Masahiko Nakajima gave a technical presentation about Yamaha's triple title-winning 2008-spec YZR-M1.
The presentation was split into four sections: '2007 Review', 'YZR-M1 Development Concept', '2008 YZR-M1 Developments and Results' and 'Summary of 2008 Season'.
2007 Review
Rossi only managed four wins and eight podiums during the 2007 season, leaving the Italian third in the riders' world championship - his worst ranking ever in 500cc/MotoGP and lowest title position since his first season of 125cc grand prix racing in 1996.
Rossi was once again the only M1 rider to win a race and Yamaha was only third in the constructors' championship, behind Honda and Ducati. In terms of results it was Yamaha's worst season since 2003, before Rossi arrived.
A review of the 2007 YZR-M1 highlighted the following weaknesses:
1) Lack of engine performance and reliability, specifically:
*Poor acceleration and maximum speed.
*High water and oil temperature.
2) Hard to manage fuel consumption, caused by:
*Poor Air-Fuel ratio on the track.
3) Difficulties in matching the (all Michelin) tyres to the chassis, resulting in:
*Lack of balance between front and rear grip/braking and turning.
YZR-M1 Development Concept
The YZR-M1's development goals were to:
1) Enhance maximum tyre performance.
2) Maximise engine power.
3) Minimise fuel consumption.
This was to be done by:
1) Chassis: Optimise geometry and rigidity
2) Engine: Less friction and better combustion
3) EMS (Engine Management System): Vehicle dynamics oriented
2008 YZR-M1 Developments and Results
Chassis Developments:
1) diagram showing how Yamaha optimised the M1's basic bike dimensions.
2) diagram showing how the frame of the YZR-M1 was changed to improve braking and cornering characteristics. The 2008 frame was stiffer until torsion and vertical loads, but less stiff under lateral loading.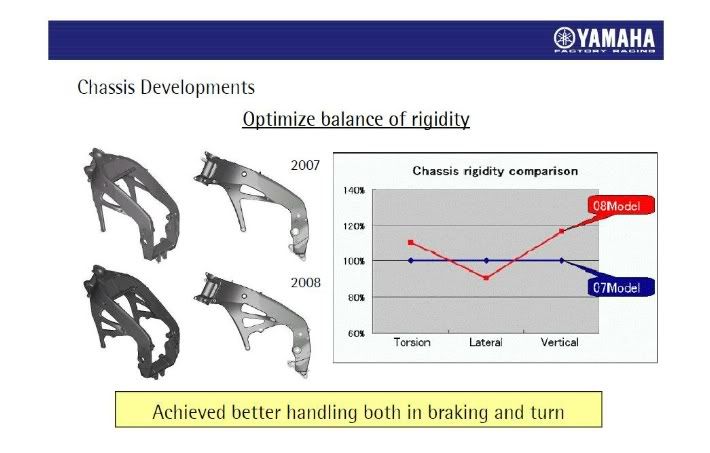 3) diagram showing how the aerodynamics of the YZR-M1 were changed to improve oil and water cooling. This resulted in more consistent engine performance and improved reliability.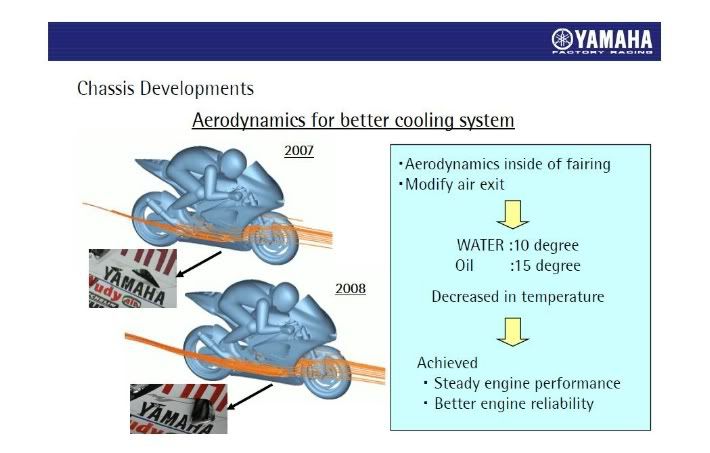 Engine Developments:
1) diagram showing the main engine changes for the 2008 YZR-M1 compared with the 2007 version.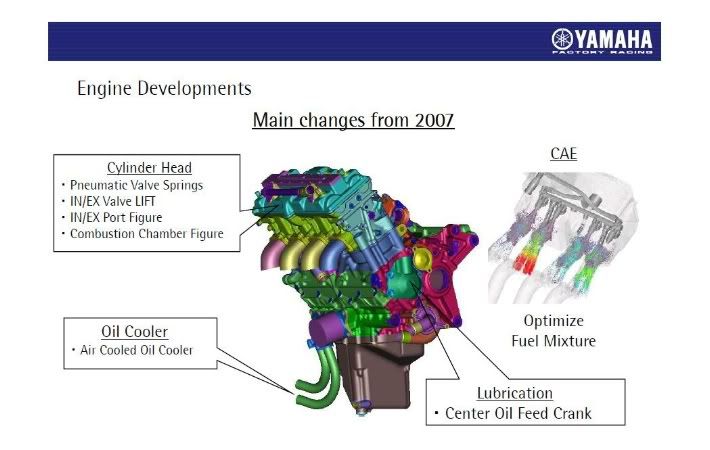 2) diagram showing the main improvements in engine performance. The pneumatic-valve system (first introduced during 2007) reduced the weight of the valve-system by 40%, lowered the amount of spring force required and allowed for a higher valve lift.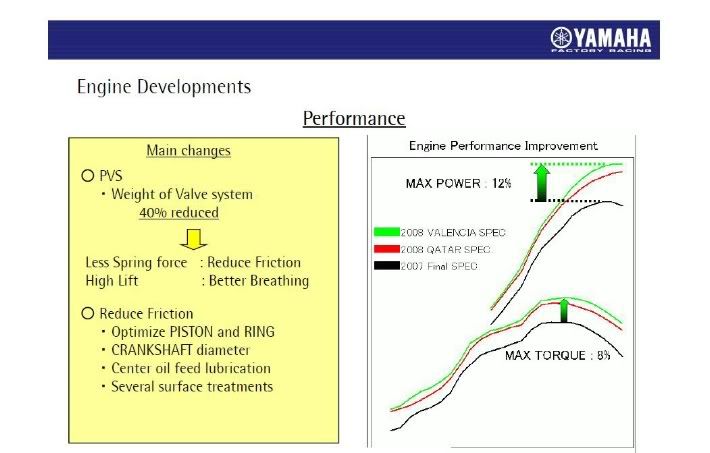 Engine losses due to friction were reduced by optimising the piston and ring, changing the crankshaft diameter, using a new centre oil feed lubrication system and changes to surface treatments.
The above modifications resulted in a 12% increase in maximum power and 8% increase in maximum torque, compared with the 2007 engine.
3) diagram showing the increase in maximum speed and reduction in fuel consumption, for each track present on both the 2007 and 2008 world championship. The biggest top speed improvement was 16 km/h at Qatar, while the M1 was over 10km/h faster at four other circuits. The biggest drop in fuel consumption was a 13% improvement at Estoril.
EMS Developments:
1) diagram showing how Yamaha's EMS (Engine Management System) used real time vehicle dynamics to optimise torque delivery.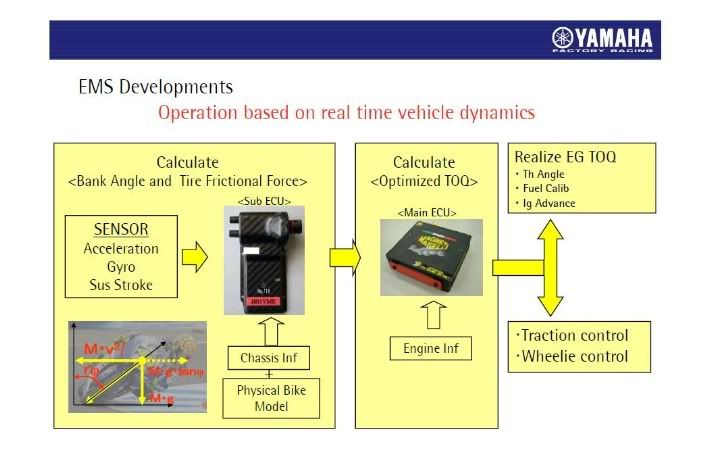 Summary of 2008 Season
The 2008 YZR-M1 achieved all its racing objectives, winning the riders', constructors' and teams' MotoGP World Championships.
The YZR-M1 took victory in ten out of the 18 rounds - nine wins for Rossi (Bridgestone tyres) and one win for Jorge Lorenzo (Michelin tyres) - and a Yamaha rider finished on the podium at every race. The 2008 YZR-M1 concluded the season with 10 wins, 24 podiums and 7 pole positions.
In brief, Yamaha improved maximum tyre performance due to:
1. Chassis dimensions being modified to suit the tyre.
2. A new EMS [Engine Management System] strategy to maximize tyre performance using vehicle dynamics.
Yamaha's work to maximise engine power and minimise fuel consumption resulted in:
1. Engine performance being improved by 12%.
2. Fuel consumption being improved by 6%.