Post by BADGER on Jun 2, 2006 6:15:39 GMT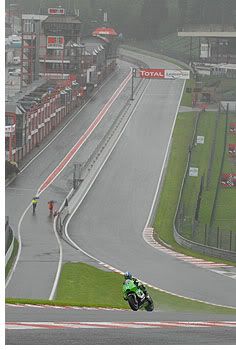 MotoGP: Nakano And Kawasaki Bring MotoGP Back To Spa
The Spa Francorchamps circuit in the Belgian Ardennes reverberated to the sound of a factory Grand Prix race bike for the first time in 16 years on Thursday, as Shinya Nakano put the Kawasaki Ninja ZX-RR through its paces, watched by Kawasaki riders from Belgium, Holland and Luxembourg.
The demonstration ride by Nakano was part of an event organised by Kawasaki Benelux, at which Kawasaki owners were given the opportunity to ride the 6.9 km Spa Francorchamps circuit, described by none other than Michael Schumacher as "without doubt the best circuit in the world."
Originally designed by Jules de Their and Henri Langlois Van Ophem, the first Spa Francorchamps circuit was a 15 km public roads track whose triangular shape took in the Belgian towns of Francorchamps, Malmedy and Stavelot. It was on this circuit that the first Belgian Formula 1 Grand Prix was run back in 1924.
As with other former public roads circuits, the Spa Francorchamps track has been modified many times over the years, primarily to improve safety, and while the current course is only 6.9 km in length, it still retains the character of the original public roads circuit.
The most famous part of the Spa Francorchamps circuit is the Eau Rouge/Raidillon combination of corners. Having negotiated the La Source hairpin at the end of a lap, riders head downhill before being launched steeply uphill into a sweeping left-right-left combination of turns, the first of which is the Eau Rouge bend proper and the rest being the Raidillon, which includes a blind summit.
If Eau Rouge is the most famous aspect of the Spa circuit then the unpredictable weather must run it a close second; a fact that Shinya Nakano can attest to as atrocious conditions greeted the Kawasaki Racing Team as they arrived at Spa for the event.
Overnight rain that continued throughout the day meant that conditions on track were far from perfect for demonstration laps aboard Kawasaki's 240BHP Ninja ZX-RR, especially when Nakano's experience of the demanding Spa circuit was limited to two quick laps in one of the course cars.
But, unwilling to disappoint the hundreds of Kawasaki riders who'd braved the conditions to see the Ninja ZX-RR put through it's paces, Nakano donned his waterproofs, asked for full wet tyres to be fitted front and rear, and took to the track for four demonstration laps.
It was an historical moment, as no current factory Grand Prix racing motorcycle has circulated the Spa Francorchamps circuit since the last Belgian Motorcycle Grand Prix in 1990, which was won by Wayne Rainey on his way to his first 500cc world championship title.